A whitehead contains: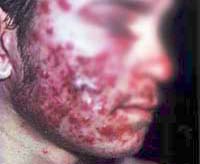 Dead skin cells
Sebum (see below)
It might also contain, in inflammatory cases:
Bacteria
Sebum is an oily substance released by the sebaceous gland to lubricate the skin in hairy sections in the human body. It's most prevalent in faces.
What Happens if You EAT An Acne?
I have been asked this question by email. Let's call the asker "John". Now, John, I have several things to say to you.
You have unimaginably bad taste. It doesn't matter if you actually ate an acne or you didn't - just that the thought of eating an acne crossed your mind means you are stomachless. Oh. My. God.

In the case of eating acnes, you would be safe if the acne wasn't infected with bacteria. I don't think you would be in much trouble even if it was, though.

I think I have been forever cursed now that the very thought of eating an acne has crossed my mind. Thank you for that, John. I hope you liked the taste

Check out Acne Free in 3 Days if you really want to clear up your face!



How To Get Rid of Acne> Acne Cures> What is acne? What happens if you EAT a Pimple?