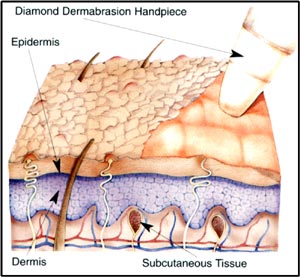 Dermabrasion for Acne
Dermabrasion refers to the physical removal of the surface of the skin using cosmetic procedures and friction. In past years, dermabrasion was done by sanding away the top layer of the skin to remove sun-damaged skin or help reduce scar tissue and discoloration. Improvements in technology, however, have given rise to carbon dioxide and lasers as a way to remove the top layers of skin. These types of dermabrasion are much more precise and easier to control than sanding.
Unlike many other acne treatments, dermabrasion can be painful and usually requires a general anaesthetic to be applied to the area prior to the procedure. As a result of the removal of skin, recovery time can take weeks or even months.
While Dermabrasion can be severe and take months to heel, Microdermabrasion is a much gentler, less invasive technique used to exfoliate the skin. Unlike dermabrasion that removes many layers of skin, microdermabrasion is designed to remove only the top layer. This means that the recovery time for microdermabrasion is shorter and typically a few weeks to a month.
Subcision Treatments
Subcision is used to treat acne scars by separating the skin tissue from the underlying scar, allowing blood to fill the space and rejuvenate the skin. This allows for the scar to level and the appearance to decrease. Usually subcision is used in conjunction with microdermabrasion and laser resurfacing.
Aloe Vera and other Plants for Acne and Blackheads
The healing properties of Aloe are known all over the world and are sometimes used as part of a treatment program for acne. Aloe, Neem, Turmeric, and Papaya have all been used to treat acne although there is little medical evidence to support their success. The anti-inflammatory effects of some of these plants, however, can aid in reducing certain forms of acne.
Anti-Inflammatory Treatments
Common anti-inflammatory drugs such as Naproxen, Ibuprofen, and Calendula have also been used to help decrease redness and irritation from acne. Most of these types of over-the-counter drugs are used on mild forms of acne.
Physical Removal of Acne
Some individuals result to physical removal of acne to help resolve symptoms. While dermabrasion can certainly be considered a physical treatment, heat and comedo removal also fall under this category. Heat can be used in localized areas in order to kill the bacteria that lead to pimple formation. Furthermore, individuals can physically remove comedos and blackheads through use of adhesive strips designed to pull the clogged particles from the pore.
Vitamin B Treatments to Help with Bad Acne
Also known as Nicotinamide, the topical form of Vitamin B has been proven to reduce the number of bacteria on the skin. There are both prescription and over-the-counter forms of Nicotinamide both of which have anti-inflammatory effects as well as boosting collagen and keratin in the skin. The products also have proven to reduce scars and wrinkles and improve skin moisture.
Using Tea Tree Oil For Acne
A common anti-inflammatory agent, tea tree oil has been used in acne patients with a small degree of success. Much like benzoyl peroxide, tea tree oil also kills acne-causing bacteria but without the excessive drying.

Check out Acne Free in 3 Days if you really want to clear up your face!



Getting Rid of Blackheads> Acne Treatments> How to get rid of Blackheads Naturally